GOOVIS
GOOVIS has found its way to satisfy customers in 60 countries and regions with more than 70,000 pcs, including throughout Europe, America, Asia and Australia. GOOVIS scooped the German RedDot Award in 2023, iF Design Award in 2018, the Chinese Red Star Award in 2020, and the Good Design Award in Japan in 2018.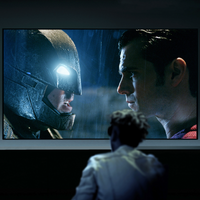 Own an 800" Screen Anytime and Anywhere!
GOOVIS has twin customized OLED displays with 800 inch virtual screen viewed from 66' (20M) away, which allows you to have a immersive cinematic experience just like sitting in the theater. Own your own cinema screen to play games and watch movies!
Compatible with ALL Your Devices
GOOVIS can be connected to all kinds of device like phone, laptop, computer, set-up box, cast, drone, PlayStation, Nintendo Switch... and more! With direct HDMI or type-c cable, plug and play easily and instantly!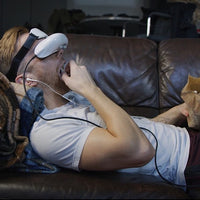 Portable & Comfortable
The total weight of the main body is only 200g(7.05oz). You can enjoy your FHD Virtual Giant Screen without worrying about fatigue from the weight. The adjustable headband brings the display closer to the face, providing a more comfortable fit.
Customized Prescription Lenses
GOOVIS built-in lenses support adjustable inter-pupillary distance; also supports nearsighted between 0 ~ -8.00 D and farsighted between 0~ +3.00D. GOOVIS also provides custom-made astigmatic lenses to suit your needs!